®
These are just a few of my favorite martial arts websites. If you have a website, feel free to add a link to mine!
* * * *
Alfredo Bandolan (Doce Pares) https://www.facebook.com/gmbandalan
Angel's Disciples (Serrada – Darren Tibon) http://www.angelsdisciples.net/
Animal McYoung http://www.nononsenseselfdefense.com/
Anthony De Longis (movie stunts, whips, swordsmanship) http://www.delongis.com/
Anthony Kleeman (Doce Pares) http://www.houseofchampions.com/bio-kleeman.html
Arnis Balite (Steven Dowd, FMA Digest) http://www.arnisbalite.com/
Bais Tres Mano System (Kalis-Silat-Kuntaw) http://www.ksk-fma.net/
Comjuka Kali http://www.comjuka.com/index.htm
U.S. Kali Assoc. FMA-HOF http://www.comjuka.com/fmahof.htm
Dog Brothers Martial Arts http://www.dogbrothers.com/
Freedman's Jujitsu/Arnis http://www.freedmansmethod.com (Boston/New Hampshire)
IESA (International Eskrima Serrada Association) https://www.facebook.com/EskrimaSerrada
Martial Arts Koncepts http://www.martialartskoncepts.com/ (Gaithersburg, Maryland)
Martial Arts Research Systems (mma, escrima, movie stunts) http://www.ronbalicki.com/
Mata Sa Bagyo (Serrada – Carlito Bonjoc) http://www.bagyo.net/
Modern Arnis (Remy Presas Jr.) http://www.modernarnis.com/
Ron Lew (Doce Pares, Chi Gung) http://www.tigereyeclaw.com/
Jeff Finder's articles from the old Escrima Review about the 1989 WEKAF 1st World Championships in Cebu, and a later online post about Philippines Independence Day.
http://www.stickman-escrima.com/Archives.htm
Stickman's Escrima Blog http://escrima.blogspot.com/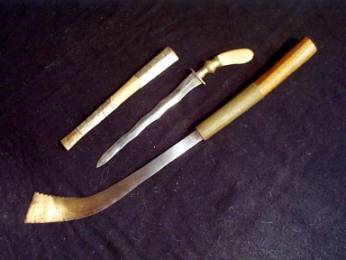 19" Kris and an antique Panabas