Click logo to return to main page
FOLDERS
Folder #1:
A 2-3/4" bladed pocket knife with heat treated stainless <![if !vml]>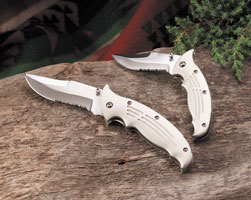 <![endif]>steel clip. This knife features an aluminum die cast handle with a unique liner lock. Not only does the blade lock in the open position, but a small ball bearing that is pressed in the liner lock matches an indention in the AISI 420J2 stainless steel blade for more precise closing. Measures 4" closed, 6-3/4" open.  Tension can be adjusted to allow very fast single hand opening.  The upward sweep on the handle gives a good hold for both forward and reverse grip, allowing pressure point strikes even with the blade closed.  The handle also works well for pinching techniques.  I have one of these to replace a similar sized Aussie knife that I carried for years.  That one cost $35; this one is comparable in quality.  Lots of these in stock!  They retail for $14.95.   $6 each, 2 for $10
Folder #2:  SOLD OUT … 
This was my biggest and most popular folder.  3-1/2" blade, 9" overall for a comfortable grip.  It has 3 ways to open fast.  There is a thumb opener, plus the action can be adjusted to work with a flip of the wrist. The most interesting feature is the hook on the spine <![if !vml]>

<![endif]>of the blade, which opens the knife automatically when it comes out of your pocket!  This is a very slick, well-balanced knife and my favorite to carry. The day after I got these I sold half a dozen at an Escrima event.  $15 each, 2 for $25
These now sell online for $26-$30 each.  Key words for Google search:
"Vigilante; world's fastest opening knife; #1304."  I can no longer get these; my best reseller price is now more than what I sold them for here!
<![if !supportEmptyParas]> <![endif]>
Folder #3: 
The Night Warrior has an unusual handle design which works well as a pressure point striker, particularly in reverse grip position (note the point on the forward end).   The blade and guard look really similar to the original prototype of my large fixed blade Commando trainer I made <![if !vml]>

<![endif]>back in 1990.  That one ended up as a gift from Mike Krivka to Dan Inosanto.  Could someone have seen and copied that design for this?  Who knows, but I liked it enough to buy a bunch.  This has a unique and fast index finger opening, using the guard to lever the blade.  3.25" blade; 4-3/4" closed, 8" open.  Single edged, though it has a double edged appearance.
$6 each, 2 for $10
<![if !supportEmptyParas]> <![endif]>
Folder #4:
<![if !vml]>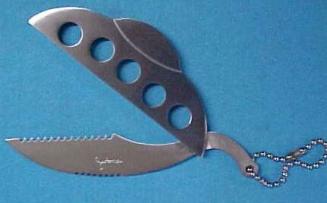 <![endif]>UFO!  Carry your own flying saucer!  This is a pretty cool little tool.  It's extremely thin, barely wider than the thickness of the blade.  It isn't a locker, but after playing with one of these, I realized it felt almost like holding a fixed blade, with the handle more for support than as the grip.  I use mine regularly for opening packages, etc.  A little stiff to open, but for the price, hard to go wrong!
$3 each, 2 for $5
Folder #5:
<![if !vml]>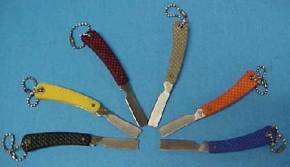 <![endif]>Mini-straights!  These little guys are about an inch long; no lockback on the blade.  That said, they do one amazing job in my shop, cutting tape, cardboard etc. as well or better than many of my bigger knives.  I keep them in lots of places; the glove compartment, the trunk of my car, my briefcase, shaving kit etc. 
$0.35 each, 3/dollar!
Folder #6:
<![if !vml]>

<![endif]>Double ended double bladed folder, faux Damascus.  This is a wicked piece of work.  An interesting knife.  Limited quantity.  $8
<![if !supportEmptyParas]> <![endif]>
<![if !supportEmptyParas]> <![endif]>
Folder #7:
<![if !vml]>

<![endif]>A similar idea in a double-ended folder.  This one has shorter blades than the one above.  I prefer the design of the first knife rather than the reversed blades.
Another limited item. $8