®
Click logo to return to main page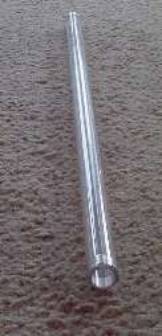 HITS : HITS are so innocuous, they attract little attention. I showed my very first one to a cop eating on his break at a 7-11 store late one night in 1989, asking if he'd consider it a weapon, and he told me to leave him alone because I was wasting his time!
Made from Hi-Impact plastic used for jet fighter canopies, motorcycle face shields and police riot shields, these 1" diameter hollow sticks are amazingly tough, durable and light. The 1/8" walls can stop a .22 caliber bullet at point blank range, yet a 28" stick only weighs 7 oz. (28 grams, or 1 gram/inch), same as 3/4" skinless tournament rattan! The first pair of these was used for 8 years for demonstration purposes, hitting full power against stop sign poles, light poles, car bumpers and buildings, plus used for hundreds of rounds of full-contact training against each other, different types of sticks, and the steel bars on face masks! These finally broke while attempting to demolish a brick wall. Unlike clear hardware store acrylics, if these break, they break cleanly, not with a jagged knife-like edge. I have actually re-ground the ends of broken HITS and continued using them much longer as shorter sticks! This is also the same material used for my shakuhachi flutes, a "take anywhere" stick.
* Anyone placing a large order (more than 5lbs. or 10 sticks) should contact me for personal invoicing instead of using these buttons. Discounts will apply!